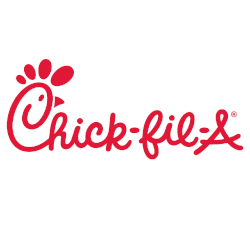 Business Profile:
Business Profile:
Like many other booming businesses, Chick-fil-A started out small and not at all a Chick-fil-A.  In fact, in 1946, founder, Emeritus S. Truett Cathy opened his first restaurant in Hapeville, Georgia, a suburb of Atlanta, named Dwarf Grill.  After the inception of his boneless breast chicken sandwich the first Chick-fil-A was opened in the 1960s and in 1967  Chick-fil-A opened their first mall restaurant in Atlanta's Greenbriar Mall.
Since then, Chick-fil-A has grown to over 2,000 locations throughout 43 states and Washington, D.C. and is considered to be one of the fastest growing quick-service restaurants and the largest quick-service chicken restaurant in the United States.  As recorded in 2015, annual sales surpassed $6 billion setting their record at 48 consecutive years of growth.  Chick-fil-A remains privately held and family owned.
Chick-fil-A does offer franchising opportunities for those interested in the quick-serve restaurant industry.  Additionally, Chick-fil-A founder "believes that all franchised Chick-fil-A Operators and their Restaurant employees should have an opportunity to rest, spend time with family and friends, and worship if they choose to do so.  That's why Chick-fil-A Restaurants are closed on Sundays.  It's part of [their] recipe for success" (www.chick-fil-a.com).
Chick-fil-A also takes part in various charities and scholarships focusing on youth and education programs, community involvement and local giving as well as leadership and family enrichment programs, namely The WinShape Foundation, which was created in 1982.  The WinShape Foundation focuses on founder, Mr. Cathy's, "desire to 'shape winners' by helping young people succeed in life."
Additional Company Information
Address: 5200 Buffington Road, Atlanta, Georgia, 30349
Current Location Information