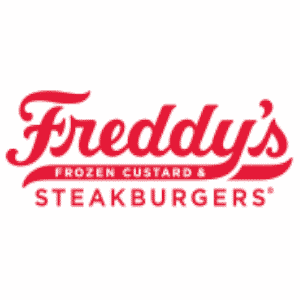 Business Profile:
Freddy's Frozen Custard & Steak-burgers is a fast-casual restaurant chain that is based in Wichita, Kansas. It was started in 2002 and started franchising in 2004. It operates at more than 150 locations throughout the United States.
It was founded by Scott Redler, a restaurateur by profession along with his two brothers, Bill and Randy Simon. Their father, Freddy Simon was the inspiration behind the restaurant chain and therefore named after him.
The first restaurant was started near the corner of 21st Street and Tyler Road in Wichita, Kansas in 2002, and the first franchise was launched in December 2004 in Hutchinson, Kansas. Freddy's opened its 50th store in April 2011 in Victorville, California, and its 100th store in October 2013 in Bowling Green, Kentucky.
Currently, there are more than 150 Freddy's locations all through the United States. The Menu usually consists of a variety of Steak-burgers, Vienna Beef hot dogs, chicken sandwiches, and other favorites. Freddy's also offers frozen custard with an assorted variety of specialty sundaes and concretes.
Additional Company Information
Address: 260 North Rock Road, Suite 200, Wichita, KS, 67206
Current Location Information