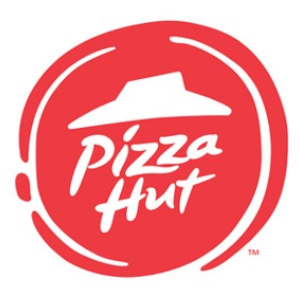 Business Profile:
The now-famous Pizza Hut was founded on May 31, 1958, in Wichita, KS. by two brothers and their mom's $600.  An investment that was, in the end, worth it as they are now "the largest pizza company in the world… and [they] deliver more pizza, pasta, and wings than any other restaurant in the world," (Yum! Brands website).  In 1969, Pizza Hut started using their signature red roof on their restaurants and by 1971 was the number 1 pizza restaurant chain in the world; both in sales and number of locations.  Now owned by Yum! Brands, Pizza Hut has over 15,000 restaurants throughout 90 countries and employs over 300,000 people.
In addition to the many interesting fun facts and stories surrounding the Pizza Hut brand, one of their most famous tales is when they delivered pizza to the White House in 1989.  First Lady Barbara Bush threw a pizza party for 200 local children in support of the "Reading is Fundamental" program and Pizza Hut was the pizza of choice.  In a move towards innovation, Pizza Hut launched the first internet ordering and delivery system in 1994 and in 1995 introduced their now famous Stuffed Crust Pizza.  Later on, in 2007, Pizza Hut became the first national pizza chain to be on Facebook, in 2009 launched their iPhone ordering app and by 2013 made it easier for Xbox 360 gamers to order pizza by introducing their ordering app on the game system.
Pizza Hut also takes part in giving back to the global community through their Life Unboxed Community program.  This initiative aims to "help 150 million people around the world unlock their potential through literacy and reading," (Yum! Brands website).  Additionally, their BOOK IT! program, started in 1984, strives to encourage young students, 14 million students annually according to their website, in over 35,000 elementary schools throughout the U.S. to work towards achieving the reading goals set forth by their teachers.  Lastly, in 2014, Pizza Hut restaurants around the world "partnered with the World Food Program to raise more than $3.8 million and provide more than 15 million meals to children in need," (Yum! Brands Website).
Additional Company Information
Address: 7100 Corporate Drive, Plano, TX, 75024
Current Location Information