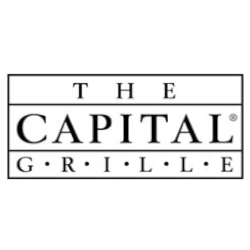 Business Profile:
Started in Rhode Island in 1990, The Capital Grille has since grown to fifty-six locations nationwide with plans for an additional 75 - 100 locations and nearly $402 million in annual sales.  In 2007, Darden Restaurants, Inc. acquired The Capital Grille fostering their continued growth and expansion.
The Capital Grille's menu is an eclectic gathering of dry aged and hand-carved steaks, decadent appetizers, soups and salads, chicken, pork and lamb entrees, seafood, sections on what to share as well as chef's suggestions, and lastly, desserts.  With a fully stocked bar and extensive wine, there is something to pair with each entree.  The Capital Grille is known for not only their cuisine but for their decor which includes mahogany paneling and art deco chandeliers.  Each location has something particularly special about it; check out their architecture here.  
Like Darden's other restaurants, The Capital Grille works towards bettering their communities through food donation.  Each day, The Capital Grille packages their surplus food and donates to various charities, food banks and pantries, and shelters throughout the United States.  In the last year, approximately one million pounds of food, and in the last ten years have donated an estimated six million pounds of food.
Additional Company Information
Address: PO Box 695011, Orlando, FL, 32869-5011
Current Location Information