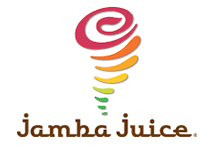 Headquartered in Emeryville, California Restaurant Retailer, Jamba Juice Company has over 800 locations in 26 states and International stores in Bahamas, Canada, Philippines, Mexico and South Korea. In addition to 45 International Stores, they have approximately 287 company-owned locations with 517 franchise-operated stores in the United States of America. Kirk Peron a healthy-lifestyle advocate and an avid cyclist founded Jamba Juice in March 31, 1965 when he opened his first store in San Luis Obispo, California. Three of his friends, Kevin Peters, Joe Vergara and Linda Olds joined him in the business and in 1990 it was incorporated as "Juice Club Inc."
In June 2006, Jamba Inc made an announcement that it had completed a $35.0 million convertible preferred stock transaction. It became redeemable by Jamba Inc at the election of the purchasers in June 2016 until and unless it is converted earlier and includes an 8% annual dividend. It is convertible into common shares at a price of $1.15 per share.
Mistral Equity Partners a private equity fund focused on consumer products and services companies led the funding with a huge amount of $19.55 million. A Serruya Family controlled company made the remaining investment of $15.45 million which is a successful entrepreneurial Canadian based family who founded the Yogen Früz frozen yogurt and smoothie chain.
Managing Partner of Mistral Equity Partners, Andrew Heyer reveals that they are very excited about Jamba as they see huge potential growth opportunities available with the company as brand is expanding through Licensing and Franchising Opportunities. The transaction focuses exclusively on investing in consumer businesses with strong management teams that develop through demographic or psychographic trends.
In a bid to transform the company from a smoothie shop to include items like wraps, sandwiches, salads, and flatbreads, Jamba began a strategic move in December 2008. At present it has over 750 locations in 26 states across the U.S and a small number of international outlets.
Jamba announced in December 2007 that it would be partnering with Nestle to lend its name to a line of healthy, ready to drink beverages under the Jamba Banner. They would offer Smoothies and Juices. However in December 19, 2008 in a press release from Nestle USA and Jamba Juice an announcement for the suspension of Jamba ready-to-drink products was made. This decision was taken in view of various challenges like manufacturing issues and out-of-stock issues.
This content is available to all

paid

 subscribers:

Site and Building criteria provided:

Building size

Building requirements

Building Type

Kiosk Guidlines

Preferred Co-Tenancy

Demographics

Contact Information Provided: