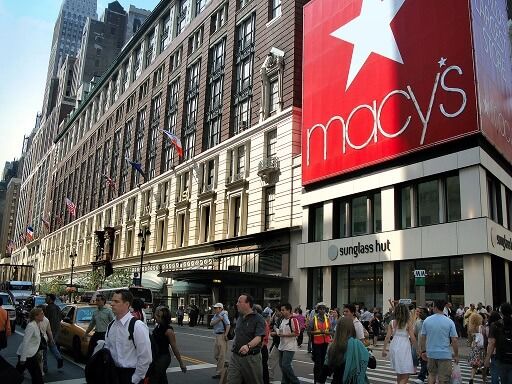 Macy's is all set to open its previously announced "Macy's Backstage" discount stores this fall in the New York area. This would be Macy's answer to T.J. Maxx and other stores that sell deeply discounted designer brands.
The store which is opening in the first week of September in Elmshurst, Queens is about the same size as that of T.J Maxx and offers, Calvin Klein, Sunglass Hut and many other designer brands that shoppers come to expect at Macy's department stores.
Vanessa LeFebvre, senior vice president of Backstage says that the new outlet would be distinctly different from the regular Macy's stores as backstage is working with brands like Fila and Reebok and new labels like Elf in the beauty section. Macy's Backstage will differ in that it will give more of a treasure hunt kind of feel. She says that it will have the potential to attract new and different customers.
This major decision comes from Macy's as the retailer faces a slowdown in the growth trajectory. Shoppers have shifted their focus on online shopping where they get discounts, so they want the same kind of deals while shopping out at retail stores and backstage is just trying to give them that.
Scott Tuhy, credit officer at Moody's Investor Service, expects market share in the off-price arena to increase to 9.8 percent in 2018, up from 6.6 percent in 2009. He says that the biggest disadvantage that Macy's has is that they have some formidable competitors. Backstage would offer homemakers and busy moms a no-frills experience where they can grab good deals on cosmetics and something more for the children. Bright signs are provided to various departments with shopping carts stacked at the front entrance. There are large fitting rooms that have nearby changing rooms.
Good deals will be given to the customers.  For instance there were spiked boots selling for $9.99 and Ralph Lauren black suede boots discounted to $169.99 from $695. In another department, Marc New York leather jackets were slashed to $99.00 from $500.
Vanessa LeFebvre said that she travels all around the country to finds merchandise where the discount varies from 20% to 80%. Macy's said that the fiercely competitive New York City area was there first choice for its first outlet stores for a reason. Four out of six stores will open on September 2nd and the others will follow soon.  New Yorkers are tough critics and they will be learning a lot quickly. Macy's trademark red star has been infused with bright colors like pink, yellow and blue.