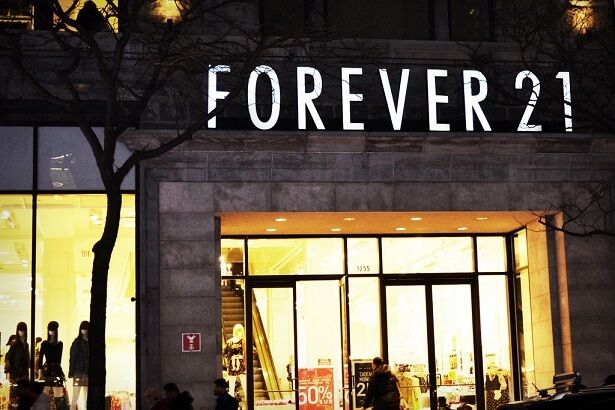 Apparel Retailer Forever 21 is rethinking the size of its stores and talking to the landlords about downsizing them, claims multiple sources. Terrison Quinn, Vice President with Colliers International's Retail Services Group says that he is not surprised by this move of theirs. Retailers are recalibrating the size of their stores and rolling out new models to suit their customers and Forever 21 is no exception, referring to the chain's new 21Red brand. They are adapting to the current retail environment in a positive way. Forever 21 is currently the fifth largest specialty retailer in the nation.
Executives of Forever 21 have announced publicly that they would want the retailer to become an $8 billion firm by 2017 and open 600 stores in the next three years. At present the chain occupies millions of square feet of retail space with about 600 stores worldwide, mainly in the regional malls. The chain accounts for 5.5 % of Taubman Centers' mall GLA, according to the REIT's supplemental filings.
An average Forever 21 store contains 38,000 Sq Ft and the largest store would measure approximately 162,000 Sq Ft. The larger stores carry a broader and elite merchandise and the financial performance has been the source of rampant speculation. Some industry experts opine that the larger footprint stores have not lived up to Forever 21's expectations. Many of these stores were originally Mervyn's or Gottschalk locations. They had an average space of about 80,000 sq ft which is three to four times the size of Forever 21's prototypical store.
When the company picked those locations, Forever 21's expansion into larger stores seemed risky yet reasonable. When H&M and Zara made an international move giving them stiff competition, Forever 21 took this opportunity to pick up empty boxes in order to prevent its competition from encroaching on its territory, says Michael Lushing, principal of Los Angeles-based Lushing Retail Advisors.
Lushing thinks that it is a good positioning play and they have won the competition. However they seem to be realizing that bigger stores are more challenging and downsizing them would be a more pragmatic approach to make it a more profitable business.
Terrison Quinn's thinks that Forever 21's opportunistic expansion into the vacant big boxes isn't working effectively for the chain. They need to discuss it with the landlords so that they can work up with a feasible plan.
Whether they can find new tenants to backfill Forever 21's empty spaces depend mainly on the quality of the spaces. Owners of centers in desirable locations will be more willing to take back space than those with class-B or class-C centers because tenant demand will vary.
With a number of other retailers downsizing, including Old Navy, Staples and PetSmart, for example, expanding tenants will have more options. The number of tenants looking for more than 50,000 sq. ft. of space is low, Quinn says.
Forever 21 is focused on expanding its 21Red Concept, which offers less expensive merchandise than its flagship brand in smaller spaces. The chain is scouting for stores measuring from 10,000 sq. ft. to 12,000 sq. ft. in community and power centers in suburban markets for 21Red, according to Quinn.
Quinn says that they are very positive with the new concept and he feels that 21Red will be more effective than the original Forever 21 concept and expects business to ramp up. 21Red will serve a different customer base than the Forever 21 stores in regional malls."
Despite a slow performance of the larger stores, Forever 21 remains the leader in the fashion sector. It is a big player and downsizing does not mean that they have run into trouble. They have a bright future and have built a strong foundation with customer loyalty.