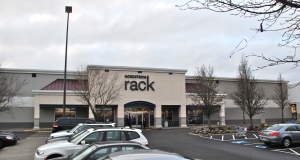 Great quality at bargain prices comes to Buffalo, N.Y. at Boulevard Consumer Square with the scheduled opening of Nordstrom Rack in late 2015. The 35,000-square-foot store from the off-price retail division of upscale retailer Nordstrom will provide Nordstrom quality merchandise at great prices, according to Geevy Thomas, Nordstrom president.
Just eight miles from downtown Buffalo at Amherst, Boulevard Consumer Square is adding Nordstrom Rack to a mix of outlets including Best Buy, Lowe's, Target, Barnes & Noble, Trader Joe's, and Bed, Bath & Beyond. Noting the store's worldwide reputation, Randy Benderson, Boulevard Consumer square president, said the new store would be the first Rack in Western New York.
Benderson said it was exciting that the Nordstrom would put a store in the area. The store would provide numerous fashion options and be a destination outlet at the center, he said. Thomas of the Seattle-based Nordstrom company, added this new destination would give people looking for Nordstrom fashion a convenient place to go.
The new store represents the seventh Rack outlet in the Empire State. The sixth outlet just opened pm Long Island at Manhasset Center. The company also recently opened stores at White Plains and Garden City.
Nordstrom is one of the leading fashion outlets in the nation with 270 stores. It was founded in 1901 in the Pacific Northwest. The off-price retail division offers from 30 percent to 70 percent off regular retail price. It carries top brand Nordstrom merchandise along with special buys making every visit like a treasure hunt where you never know what you're going to get, but you're going to get something good.
Nordstrom offers more than 115 full-line outlets, 150 Nordstrom Racks, a clearance outlet and two Jeffrey boutiques. It's a publicly traded company on the New York Stock Exchange under the JWN symbol. Benderson Development Company holds more than 700 properties and 40 million square feet of space. It was founded in the 1950s by Nathan Benderson.
Links:
Store location:
1565 Niagara Falls Blvd Buffalo, NY 14228