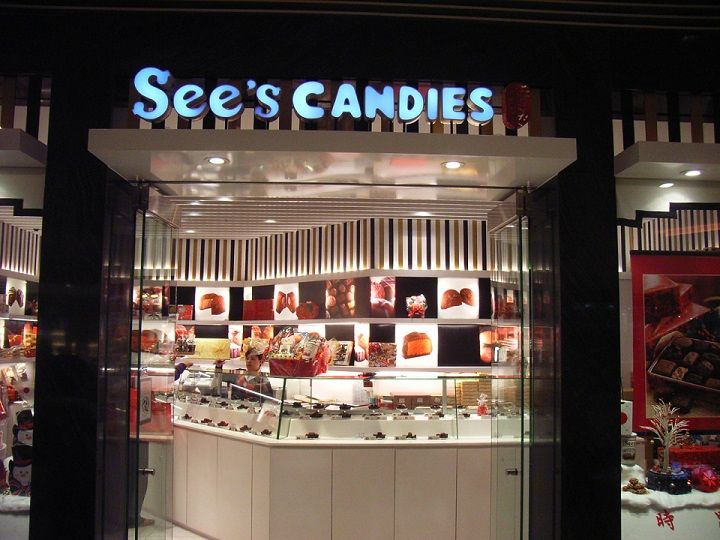 California based manufacturer and distributor of candy, See's Candies plans to relocate and open new stores across the country. The 96-year-old company known mostly for its chocolates made the announcement this Tuesday. See's Candies CEO and President Brad Kinstler revealed that in order to meet the rising needs of their loyal customers who were eager to explore their awesome range of more than 100 varieties of chocolate and candies and get a taste of their unique welcoming service along with the complimentary samples that they are famous for expansion was being done. They will be adding more stores to their 240 See's Candies shops in the United States which also includes the one that opened in New York City's Greenwich Village earlier this year.
New shops in Escondido, Windsor, and Pleasant Hill will be relocated whereas new shops will be opened in Castro Valley, Calabasas, San Jose, Paso Robles, Manhattan Beach, Glendale & Laguna Hills. See's Candies Senior Vice President of Sales, Ann Ostrander noticed a trend where most of the new locations are at strip centers and outdoor malls where customers are happily shopping. See's Candies is excited to be growing and spreading to new locations throughout California in times of uncertainty. They are ecstatic about adding retail locations all over the United States.
See's Candies, an American manufacturer and distributor of candy in particular chocolates was founded by Charles See in Los Angeles, California 1921. Headquartered in San Francisco, California it operates over 200 stores in the USA offering its customers a wide range of truffles, chocolate-covered nuts, lollipops and peanut brittle.