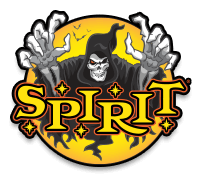 Spirit Halloween was founded by Joseph Marver in 1983 in San Francisco, California. It is a nationwide specialty retailer of Halloween merchandise with 434 stores across 46 states. By the year 1999, Spirit was acquired by Spencer Gifts and had 60 temporary locations. The stores are open for about two months up-to Halloween, however the website is maintained year around. It sells a wide assortment of accessories, masks, makeup, lighting, wigs, party goods, indoor and outdoor decorations and special Halloween Costumes for men, women and children. It is also known for its unique animated decor.
The stores which are now a part of Spencer's Gifts are located as temporary shops in many shopping centers and malls. The store locations have been typically changing from year-to-year and are typically in operation during the Halloween season from September to October. Its main rival Halloween Adventure, based out of Boothwyn Philadelphia, operates mostly in the Mid-Atlantic region of America, California and Florida.
Spirit Halloween Superstores has branched out into the Christmas season by adding holiday decorations and other items as "Spirit Christmas Shops". As of 2013, Spirit's over 1000 locations comprised about half of Spencer's $250 million annual revenue.
This content is available to all

paid

 subscribers:

Space requirements
store requirements
location requirements
Contact name, location, phone number and email